27 million Texas drivers' license numbers were leaked, in addition to names, dates of birth, addresses, and vehicle registration. Check if you're on the list
Insurance software provider Vertafore revealed that it was the victim of a data breach after a third party gained access to its networks, exposing information from nearly 28 million Texas-based drivers. The leak would have occurred between 11 March and 1 August and was the result of a human error resulting in the storage of this information in uninsured services.
The company mentions that the files were removed from this unsafe system, although subsequent investigations revealed that a third party managed to access this information. Vertafore mentions that the files exposed contained driver's license information issued before February 2019.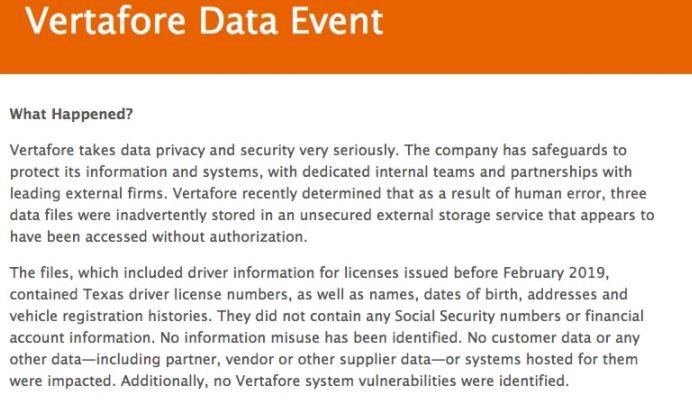 Among the records above are details such as driver's license numbers, full names, and dates of birth, addresses and vehicle registration histories. Users' financial information and social security numbers have not been compromised during the incident.
Authorities are already aware of the incident, including the Texas Attorney General, the State Department of Public Safety, and representatives of federal agencies.
While authorities continue to investigate the incident, affected drivers are being notified of the exposure of information. Vertafore is working with prominent members of the cybersecurity community, although so far there is no information indicating that this data has been used for malicious purposes: "Although no evidence of malicious behavior has been found, Vertafore offers affected drivers one year of free credit monitoring and identity protection services," the company's statement said. 
Texas drivers are not the only ones who have been affected by a recent data breach. Thousands of drivers in New South Wales, Australia, experienced multiple personal details after the security of an Amazon Web Services (AWS) deployment was compromised.